Well, its a good question and one that I thought I would look into…. Lets start at the beginning…
"A paramedic is a healthcare professional who works in emergency medical situations. A paramedic may be best defined as a medical professional who provides medical care at an advanced life support level in the pre-hospital environment, usually in an emergency, at the point of illness or injury. This includes an initial assessment, a diagnosis and a treatment plan to manage the patient's particular health crisis. Treatment can also be continued en-route to a hospital if more definitive care for the patient is required. Paramedics provide advanced levels of care for medical emergencies and trauma. The majority of paramedics are based in the field in ambulances, emergency response vehicles, or in specialist mobile units such as cycle response. Paramedics provide out-of-hospital treatment and some diagnostic services,although some may undertake hospital-based roles, such as in the treatment of injuries." NHS (2012)
Traditionally event first aid cover is provided by those who work or volunteer at the weekend, using their skills to provide immediate care to those who are ill or injured at an event (look at the St John Ambulance model). Sometimes however, weekend first aid workers (whilst they do a fantastic job) need the support of registered professionals and Ambulance Clinicians, which generally in the pre-hospital environment this is paramedics (registered with the HCPC).
The question is, which events require this additional cover and when does this paramedic-led model become beneficial?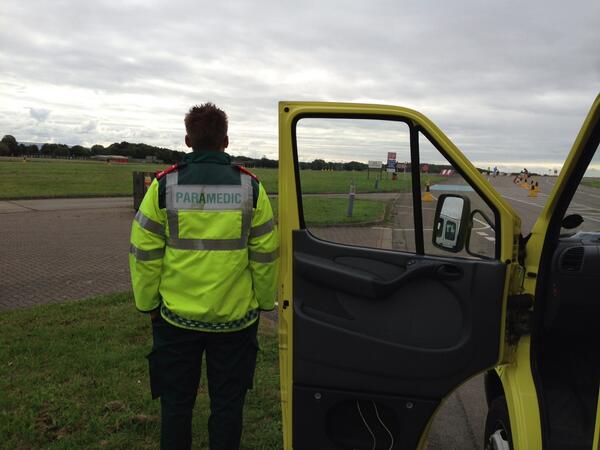 The HSE's Event Safety Guide (or 'Purple Guide') does actually outline a guideline of this requirement, although it does not specifically state 'Paramedic' in its scoring table it defines an ambulance crew as 'An Emergency Medical Technician and one Registered Paramedic', although again – this is a guide.
I think it is important to make provision for more advanced emergency care for those events with a 'mass gathering' or high risk nature (such as motorsport etc). Often there needs to be escalation of care and a clinical supervision structure to ensure the visitors or competitors at the event are afforded the best possible and indeed appropriate clinical care.
At Jigsaw Medical we have found our feet (and I suppose a niche) in providing fully equipped paramedic crewed ambulances, response cars and staffing solutions. Due to this, we often work in high risk areas and mass-gathering events, which enables us to provide a comprehensive package from First Aid Cover to paramedic & Medical Cover. From this experience we have discovered that although event medical cover does not always need to be paramedic led, there is a definitive improvement in the facilitation of care with this additional skill and interventions. For example, not only are we able to provide basic analgesia, but our paramedics are able to deliver intra-venous pain relief which is often required in these high-risk areas.
The paramedic-led model allows for on-site clinical governance and the ability to further reduce the impact on the local NHS services, as many patients can be clinically assessed and use 'pathway's' appropriately, whilst of course facilitating a more advanced level of care for event goers.
The bottom line is – although paramedics are not always required at events, they are very useful for those high-risk and medium – large scale events.
Written by: Chris Percival, Director & HCPC Registered Paramedic, Jigsaw Medical Services Ltd